Jalapeño Cheddar Cornbread
Moist and cheesy with a whole lot of heat!
Warm up your kitchen and your mouth with this fiery cornbread. The perfect side for chilis, soups, or stews.
By: Christopher Sinclair McCalla
Image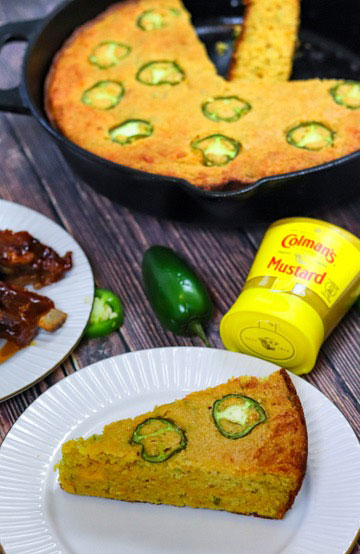 Ingredients
1/2 cup unsalted butter melted and cooled slightly
1 cup all-purpose flour
1.5 cups sharp cheddar cheese, shredded
2 Jalapeños, minced
1 cup cornmeal
1 teaspoon baking powder
1/2 teaspoon baking soda
2 tablespoons Colman's Squeezy Mustard
1/4 teaspoon salt
1 cup buttermilk
1/2 cup brown sugar
2 large eggs
Directions
Preheat oven to 400 degrees.
Melt the butter in a 9-inch cast iron pan over a low flame.
In a large bowl, whisk together cornmeal, cheese, jalapeno, flour, sugar, baking soda, baking powder, and salt. Set aside.
In a bowl, whisk together eggs, butter, mustard, and buttermilk.
Stir the wet ingredients into the dry ingredients until just combined.
Pour the cornbread batter into the heated skillet, spreading it into an even layer. It will immediately start to set on the edges.
Bake for 20-25 minutes, until golden brown and a skewer inserted into the center comes out with just a few moist crumbs attached.
Cool cornbread for about 15 minutes, slice into wedges, and serve.