Green Bean Casserole Soup
Comfort food with a different kick. No holiday required.
Pretend it's your favorite holiday and start cooking this soup. Green beans, mushrooms and chicken broth melt together into a creamy soup and the Colman's fried onions give it an exceptional taste.
Image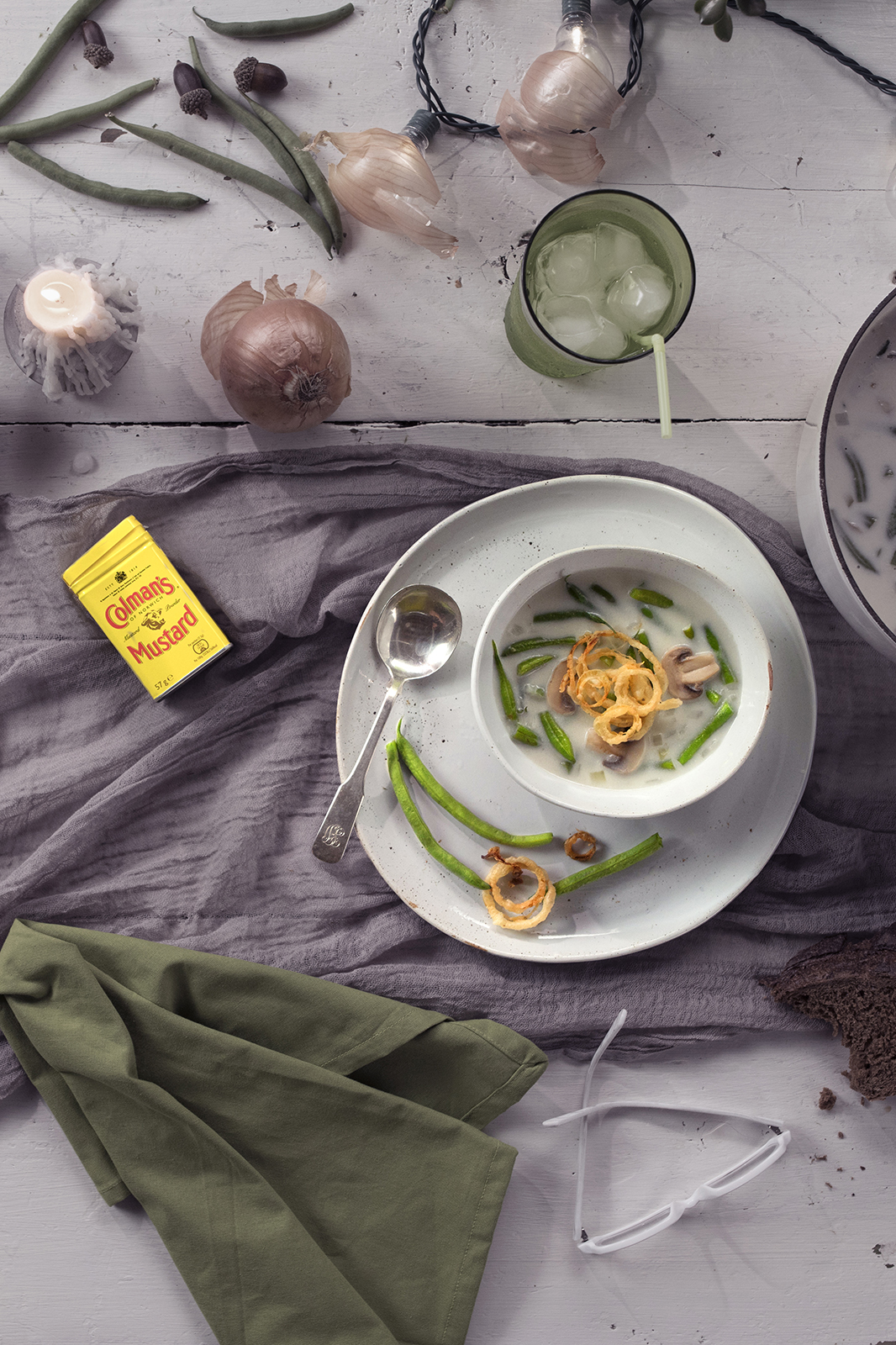 Ingredients
¼ cup extra virgin olive oil
1 small onion, diced
¼ cup all-purpose flour
4 cups low-sodium chicken broth
2 sprigs fresh thyme
5 oz. button mushrooms, thinly sliced
1 lb. fresh or frozen green beans, cut crosswise into 1 to 2 inch slices
1 cup half and half
salt and pepper to taste
Onion Strips
1/2 cup flour
1/2 cup milk
salt and pepper to taste
1 medium yellow onion, cut into thin strips
canola oil for frying
salt to taste
Colman's Dry Mustard Powder for Added Flavor (Pinch or Punch – to taste)
Directions
Green Bean Soup: In a large pot, over medium-low heat, add olive oil, and onions, and cook stirring occasionally until softened, about 6 to 8 minutes. Stir in the flour and let cook 2 to 3 minutes.

Whisk in the chicken broth and thyme and bring to a simmer. Add the green beans and mushrooms and cook, about 4 to 6 minutes until the greens beans are just tender. Stir in the half and half and cook to heat through, about 3 to 4 minutes. Season to taste with salt and pepper.

If soup is too thin, you can combine another tablespoon of flour and milk, whisking together, and pouring it into the soup. If soup is too thick, you can add a little extra milk, until desired consistency.

Onion Strips: In a pan, over medium-high heat, add 1/2 inch of oil. Combine flour, milk, salt and pepper in a bowl, and mix until well combined.

Add in onion strips, stirring until all onions are coated.

Once oil is warm, add in a thin layer of the battered onions, and fry on each side until brown, about 1 - 2 minutes.

Remove with a slotted spoon and drain on a paper towel-lined plate. Repeat until all onion strips are cooked. Season to taste with salt and Colman's Dry Mustard Powder.

Serve up a bowl of green bean soup, and sprinkle on crispy onion strips!