Smokin' Hot Cheese Bombs
A blast of flavor in one flakey, cheesy, ooey-gooey bite!
These Smokin' Hot Cheese Bombs didn't have to try hard to earn their name. Small. Hot. Delicious. 
Image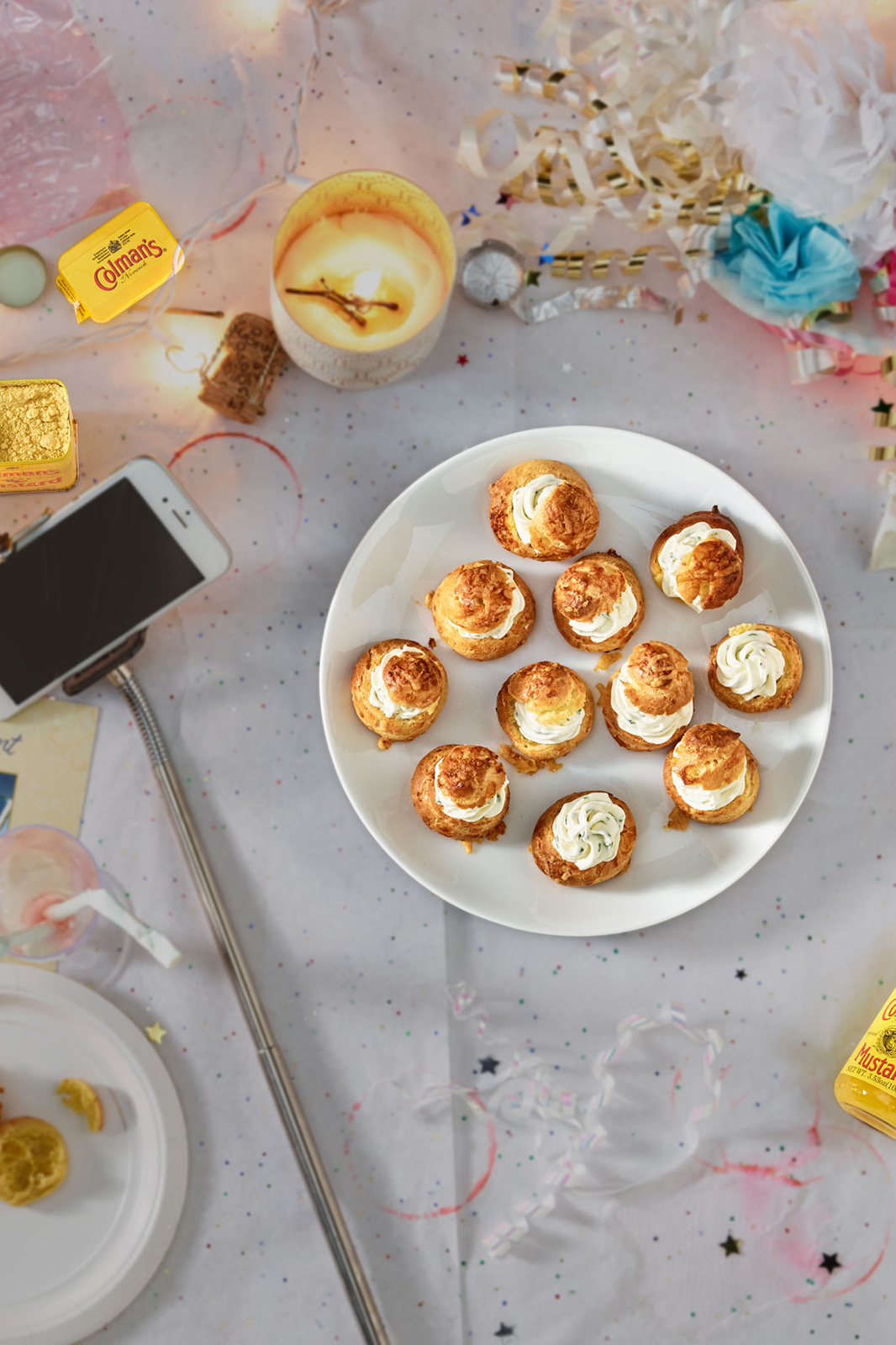 Ingredients
Cheese Puff Ingredients:
¾ cup whole milk
¼ cup water
1 stick unsalted butter, cut into ½ inch pieces
½ tsp. salt
1 cup all-purpose flour
4 tbsp. Colman's Dry Mustard Powder
4 large eggs, at room temperature
¾ cup finely grated smoked gruyere cheese
½ cup finely grated Parmigiano-Reggiano
Cheesy Filling Ingredients:
1 package Cream cheese, room temperature
1 cup Sour cream
1/4 cup Chives, finely chopped
Directions
Combine ½ cup milk, ¼ cup water, salt and butter in a medium saucepan over high heat.
In a separate bowl mix together the flour and Colman's dry mustard.
When the saucepan is at a rapid boil, add the flour mixture all at once and reduce heat to medium low.
Turn on a sweet playlist and keep stirring vigorously (come on now, really get into it and go with the music!!) with a wooden spoon until the mixture forms a thick ball of dough and coats the sides of the pan, 2-3 minutes. The dough will be very smooth.
Remove from heat and let cool to room temperature.
Position racks in thirds and preheat oven to 400°F.
Line 2 sheet pans with parchment paper. (Note: parchment paper is not the same as wax paper, do not make this mistake like we did).
Once the dough is at room temp, beat in eggs one at a time. Make sure each egg is completely incorporated into the dough and becomes smooth before adding another egg.
Add ½ cup gruyere and ½ cup Parmigiano-Reggiano cheese and beat until well mixed.
Use some sort of kitchen utensil to spoon 1 tbsp. of dough and drop on to parchment lined sheet pans. Please see comment above on parchment paper – you will thank us.
Using remaining milk and cheese, lightly brush the dough with milk and top with grated gruyere cheese. Leave approximately 1" each between each.
Bake for 20 minutes until puffed and golden brown. Rotate halfway through. Cool on wire racks.
Mix filling ingredients together in a small bowl. Spoon filling into a pastry bag fitted with a large star tip. Suggested tip size: 1M. (if you're like most people and don't have this, use a sandwich bag, stuff in the filling, and cut the corner.)
When you are ready to fill the Cheese Bombs, cut off top ¼ of each puff, pipe cream cheese filling and replace top.
Note: You can freeze Cheese Bombs after completely cooled for up to 2 months. Reheat in the oven when you're ready to eat like when you need a midnight snack, or two. Go ahead, no one is judging.