Hot Tamale Poppers
Small, but fierce, these will take your taste buds to a whole new level.
The jalapeños on the bottom pair perfectly with BBQ pork stuffed in a tangy, hot corn muffin mix. The drizzle has quite the kick as well.
Heat Level
A Little Bit Wild
Image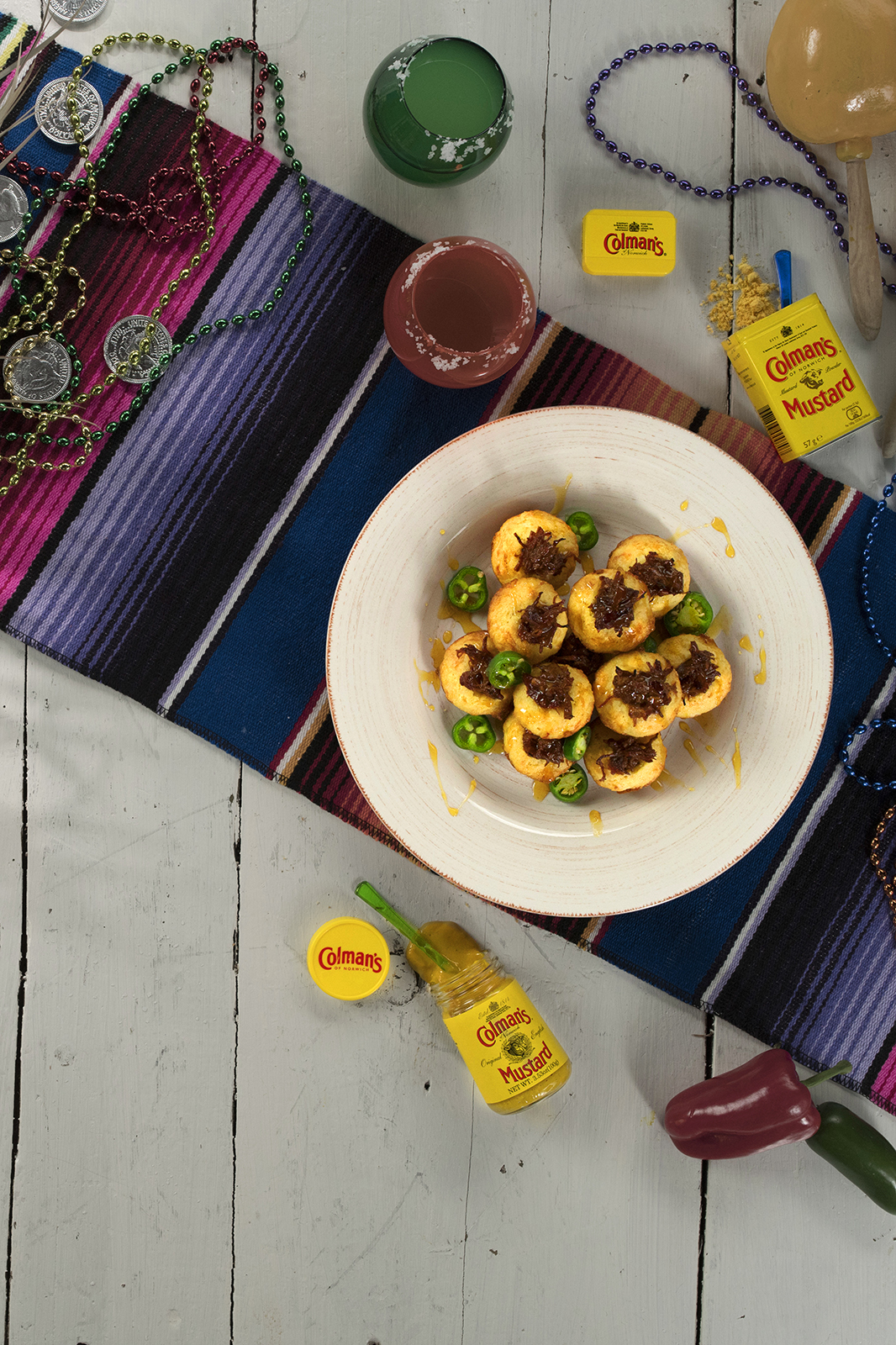 https://youtu.be/pXriujAYfd0
Ingredients
1 box (8.5 ounces) corn muffin mix
1 tbsp. Colman's Dry Mustard Powder
1/3 cup milk (or as called for on muffin package instructions)
1 large egg, slightly beaten
1/2 cup shredded Mexican blend cheese
1/4 cup honey flavored barbecue sauce
1 chipotle pepper in adobo sauce, minced
3 tsp. Colman's Prepared Mustard, divided
3/4 cup refrigerated smoked pulled pork without sauce
22 fresh jalapeño slices, about 1/8 inch thick
1/4 cup honey
1 tsp. adobo sauce

Directions
Preheat the oven to 400 degrees F.

Grease a 24-cup mini muffin tin with cooking spray.

In a medium bowl whisk together the muffin mix and Colman's Dry Mustard Powder. Stir in the milk and egg just until combined. Fold in the shredded cheese.

In a small bowl stir together the barbecue sauce, chipotle, and 1 teaspoon Colman's Prepared Mustard until combined.

Stir in the pork until fully coated. Place 1 jalapeno slice into the bottom of 22 mini muffin cups.

Top with 1 tablespoon of the corn muffin mixture. Make small wells into the center of each muffin and fill with heaping teaspoonful of the pork mixture.

Bake on the center rack for 9-11 minutes or until edges are golden and a toothpick inserted into the muffins comes out clean. Let cool for 5 minutes, then gently run a knife around edges.

Remove muffins to a serving dish. In a small bowl whisk, together the honey, remaining 2 teaspoons Colman's Prepared Mustard, and adobo sauce. Drizzle over muffins.