Spicy Empanadas
Hot beef packed pastry at your service.
Don't be fooled by the light and flakey pastry outside – the spicy beef inside and chimichurri dipping sauce are serious business.
Image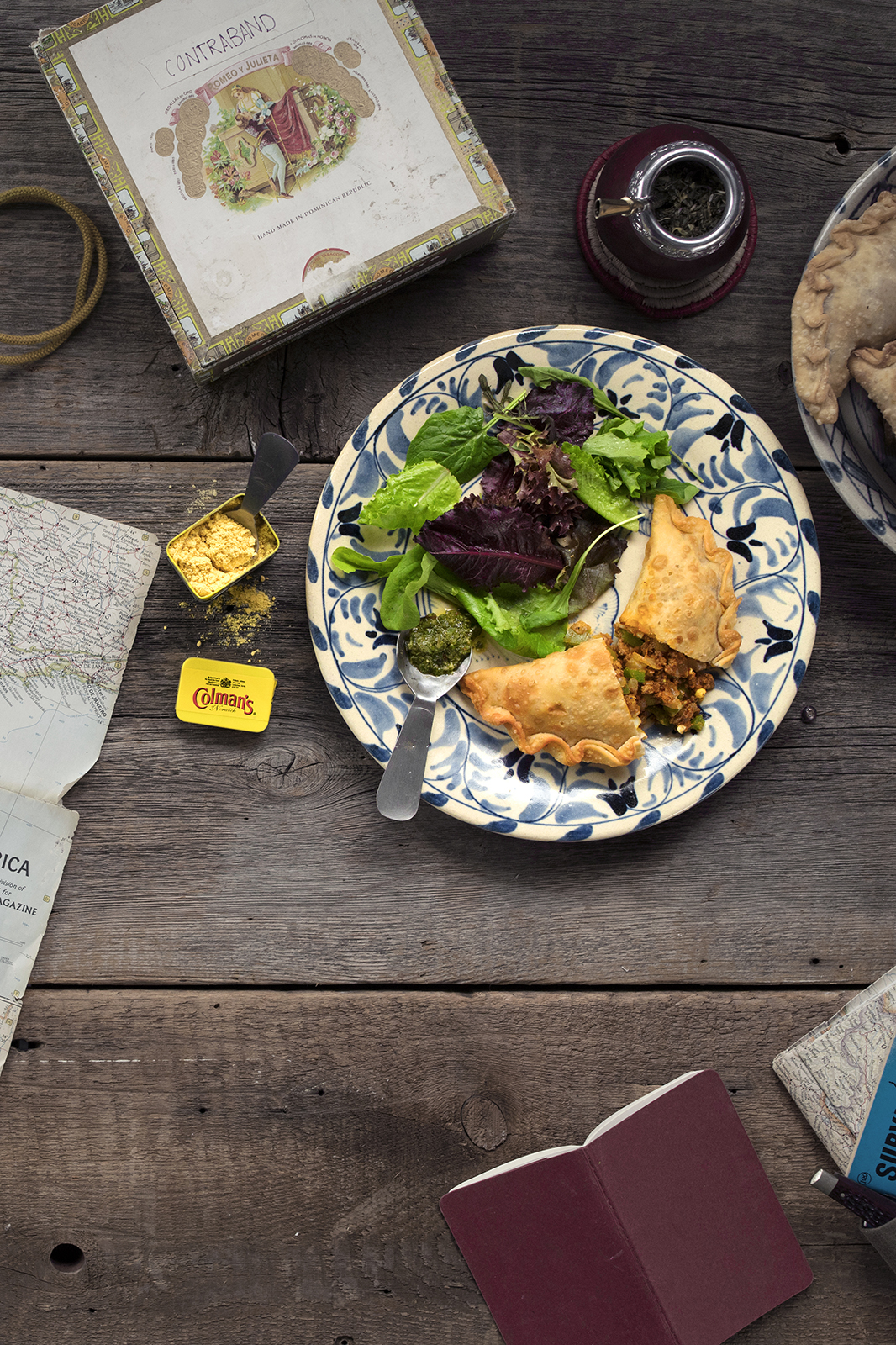 Ingredients
Pastry
Use premade pastry, 6-inch diameter size frozen pre-made Empanada dough

Filling
1 tbsp. Extra Virgin olive oil
½ pound lean ground beef
1 1/2 tsp. salt
1/2 tsp. ground black pepper
1 small white onion, peeled and chopped (3/4 cup)
1 small green pepper, stem removed, seeded and chopped (3/4 cup)
2 cloves of garlic, chopped
1 tbsp. tomato paste
1/2 tsp. paprika
1/2 tsp. ground cumin
1/2 tsp. chili powder
1-2 tsp. Colman's Dry Mustard Powder
2 hard boiled eggs, roughly chopped
1 handful of small-sized green pimento stuffed olives

Chimichurri
1 cup packed fresh cilantro leaves and stems
1 cup packed fresh flat-leaf parsley leaves and stems
2 tablespoons fresh oregano leaves
2 cloves of garlic
1 tbsp. red wine vinegar
2 tbsp. fresh lime juice
1/3 cup extra virgin olive oil
1/2 tsp. dried chili flakes
Salt to taste
Directions
Empanadas: Warm olive oil in a medium skillet over medium-high heat. Add the beef, salt and pepper. Cook 4-6 minutes until meat has browned.

Add the white onion, green pepper, and garlic and cook, stirring until the pepper and onions have softened slightly, about 3 to 4 minutes.

Add the tomato paste, paprika, cumin, chili, and Colman's Dry Mustard Powder and stir to combine and heat through.

Transfer the mixture to a large bowl to cool to room temperature, then gently stir in the chopped egg and olives.

Place a piece of dough on a lightly floured cutting board. Scoop ¼ cup filling onto the center of the dough, then fold the dough over in half creating a pocket. Fold the edges over, then pinch the edges to seal.

Transfer to a parchment-lined baking sheet. Repeat with remaining dough and filling. Transfer the empanadas to the refrigerator to rest for about 20 minutes.

Heat oil in a large pot until a clip-on thermometer reaches 360 degrees F. Add the empanadas, a few at a time, carefully to the hot oil.

Fry in batches, flipping halfway through cooking until the dough is golden brown, about 3 to 5 minutes.

Transfer to a paper towel-lined cooling rack to drain. Serve immediately with the chimichurri sauce.
Chimichurri Sauce: Combine the cilantro, parsley, oregano, garlic, vinegar, and lime juice in a food processor and pulse until finely chopped.

Transfer to a small bowl and stir in the pepper, olive oil and salt.
Plate your Chimichurri Sauce with a few Empanadas and enjoy!