Pastrami Onion Rings with Honey Mustard Sauce
Grab a ring & dip it in. One hot win for you!
Pastrami on an onion ring? Brilliant. Hot, honey mustard dipping sauce? Even better. All around, a great combo.
Image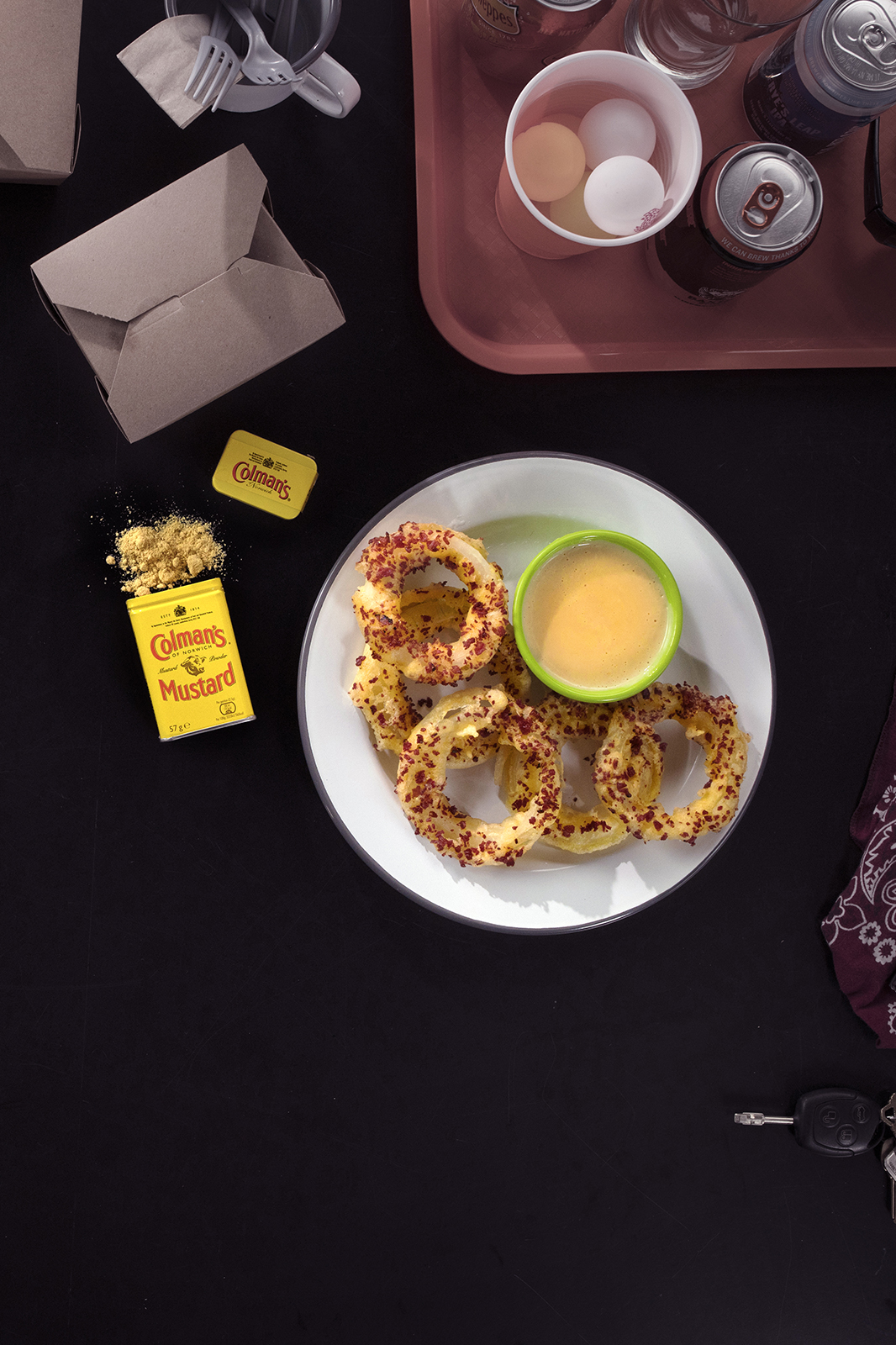 https://youtu.be/4co2v4OISwc
Ingredients
Halftime Honey Mustard Dipping Sauce
2 to 4 tsp. Colman's Dry Mustard Powder
3/4 cup light mayonnaise
3 tbsp. honey
3/4 tsp. soy sauce

Onion Rings
2 tsp. Colman's Dry Mustard Powder
3 to 4 cups vegetable oil
2 medium sized sweet onions, peeled and cut into 1/2 inch slices
1 1/4 cups all-purpose flour
2 tbsp. fine corn meal
2 tbsp. corn starch
2 tsp. baking powder
1 tsp. kosher salt
2 tsp. cayenne pepper
1 1/2 cups plain club soda
4 ounces purchased deli pastrami
Garnish
Salt, to taste
1 tsp. Colman's Dry Mustard Powder
Directions
In a bowl, combine all dipping sauce ingredients and stir until smooth. Place in a serving bowl.

To make the onion rings, heat oil in a medium-sized heavy pan to 350 degrees F on a thermometer.

Separate onion slices into rings. In a large bowl stir together the flour, corn meal, corn starch, baking powder, salt, Colman's Dry Mustard Powder, cayenne pepper, and club soda.

Finely chop the pastrami, preferably in a food processor, and place in a shallow dish or pie plate.

Working in batches, dip onion rings into batter allowing excess to drip back into bowl. Immediately sprinkle one side of each ring lightly with pastrami.

Place rings in a single layer into hot oil. Cook for 2 minutes or until crisp and golden brown. Drain well on paper towels.

Sprinkle with salt if desired.

Sift 1 teaspoon of Colman's Dry Mustard Powder on top of onion rings and dipping sauce just before serving.

Serve rings hot with dipping sauce alongside. Enjoy!