Pineapple Hot Wings with Cilantro Crema
They're fruity. They're spicy. They're your new go-to wings.
Spoon a pineapple mustard mixture over chicken wings for a sweet, tangy crowd-pleaser.
Image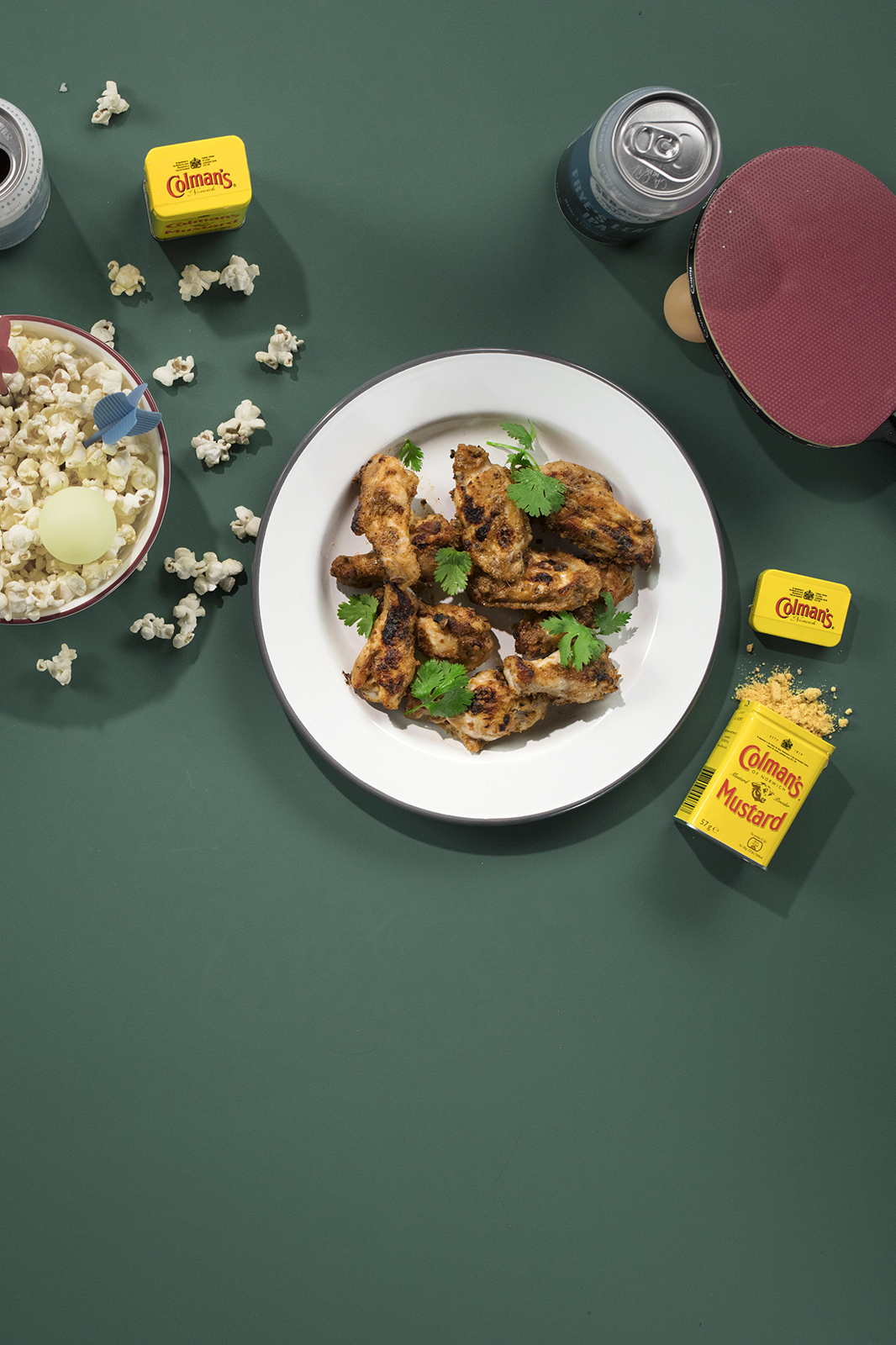 Ingredients
Wings
1 lb. chicken wings (buffalo style)
2 tbsp. Colman's Dry Mustard Powder
3 tbsp. sherry vinegar
2 8.45 oz. can of pineapple juice not from concentrate
1 tbsp. sea salt
1 tbsp. cracked black pepper

Cilantro Crema
¼ cup cilantro washed, and stems removed
¼ cup 2% or whole milk plain Greek yogurt
2 cloves garlic, roughly chopped
2 tbsp. butter
1 tbsp. Colman's Dry Mustard Powder
2 tablespoons dark brown sugar
¼ tsp sea salt
¼ tsp cracked black pepper
4 tbsp. milk

Directions
Wings: Preheat oven to 450 degrees F. Put sheet pan in oven to preheat.
Place chicken wings in storage bag or container. Sprinkle 1 tablespoon Colman's Dry Mustard Powder over wings. Toss to coat.

Add 2 tablespoons sherry vinegar. Cover and marinate chicken in refrigerator for 15 minutes.

In a small pot, mix pineapple juice, 1 tablespoon of Colman's Dry Mustard Powder and sugar. Cook on med-high for 18 minutes to reduce. Season with 1 teaspoon salt and ½ teaspoon black pepper

Turn off heat and remove sheet pan from oven. Using tongs, place chicken wings on sheet pan. Discard marinade.

Spoon 1 tablespoon of pineapple sauce over each wing.
Bake wings for 15-20 minutes. Every five minutes baste wings with pineapple sauce.

Cilantro Crema: Melt butter in skillet over med-high heat. Cook garlic for 3 minutes.

Combine all ingredients in food processor. Pulse to combine.
Serve wings with cilantro crema and enjoy the sweet heat!