Proper Macaroni Salad
Serve it as an app, side dish or stuff your face and eat is as dinner.
You might want to make a double (or triple) batch of this one, folks. Tangy and packing a proper punch, this macaroni salad won't last long at any event.
Image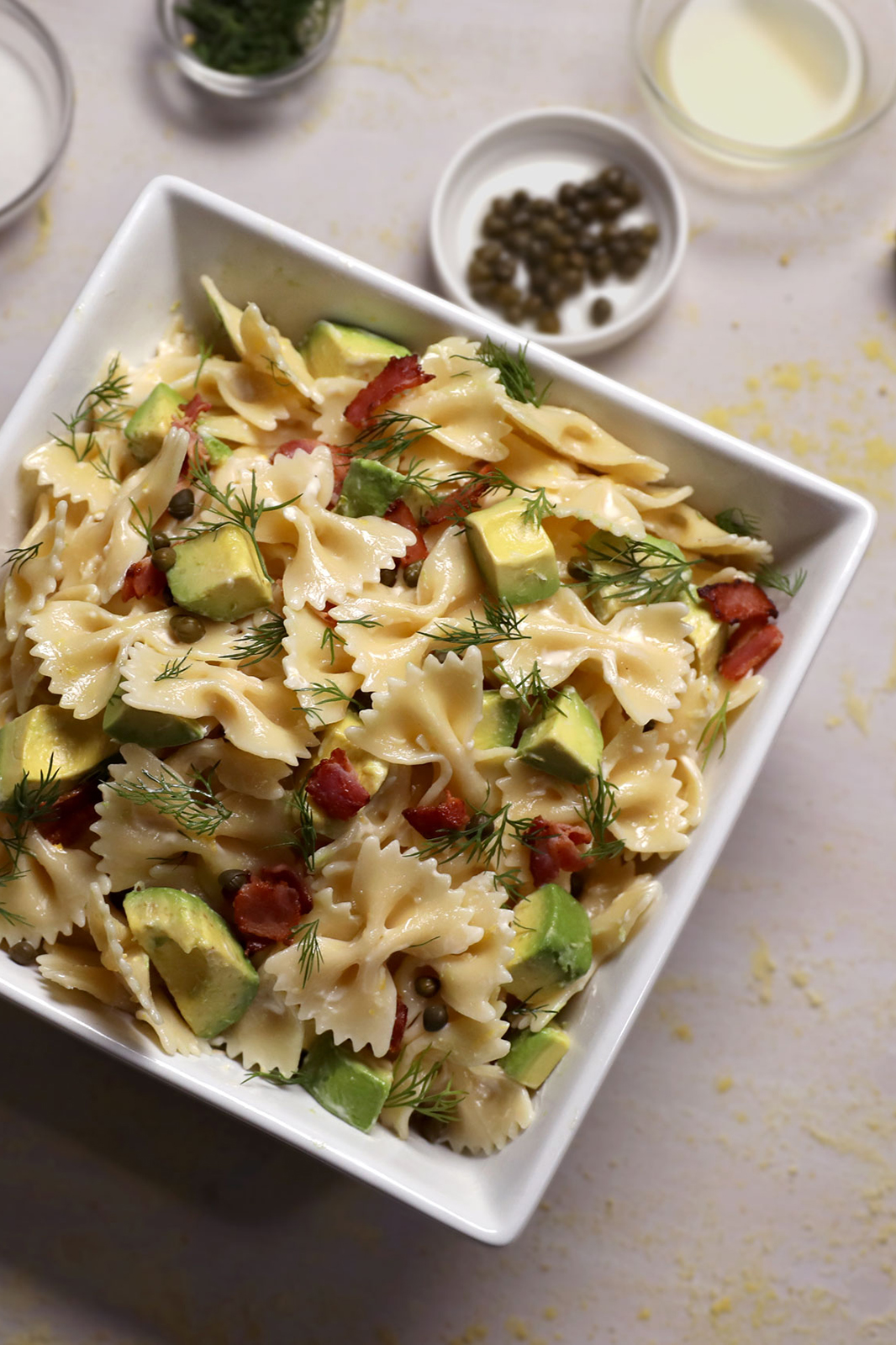 https://youtu.be/LeND2g99c5g
Ingredients
SALAD:
1 package DaVinci Bowtie Pasta
8 slices bacon, diced
2 avocados
2 tsp. fresh dill (or thyme leaves)
½ tbsp. Reese capers
Salt and pepper to taste
DRESSING:
½ cup mayonnaise
2 tbsp. freshly squeezed lemon juice
1 ½ tbsp. lemon zest
1 tbsp. sugar
1 tsp. fresh dill (or thyme leaves)
1 tsp. Colman's Dry Mustard Powder (or more)
1 tbsp. olive oil
Salt and pepper to taste
Directions
Dressing: whisk mayonnaise, lemon juice, lemon zest, sugar, olive oil and dill in large bowl; season with salt and pepper to taste.
Salad: in a large pot of boiling salted water, cook pasta according to the package instructions; drain well.
Heat a large skillet over medium heat. Add bacon and cook until brown and crispy, stir occasionally to ensure every piece is browned-bacon perfection, approximately 8-10 minutes. Transfer to a paper towel-lined plate to soak up some grease.
In yet another large bowl, combine pasta, bacon, avocado, Reese capers, and dressing. Careful! Fold together gently to not crush the beautiful avocado. Add some salt and pepper if you want.
Serve immediately, garnish like a boss with dill.