Sassy Apple Pie
The motto of this apple pie is: less tradition, more heat.
With a little bit of brandy and a surprising amount of heat, this is definitely not your traditional apple pie.
Image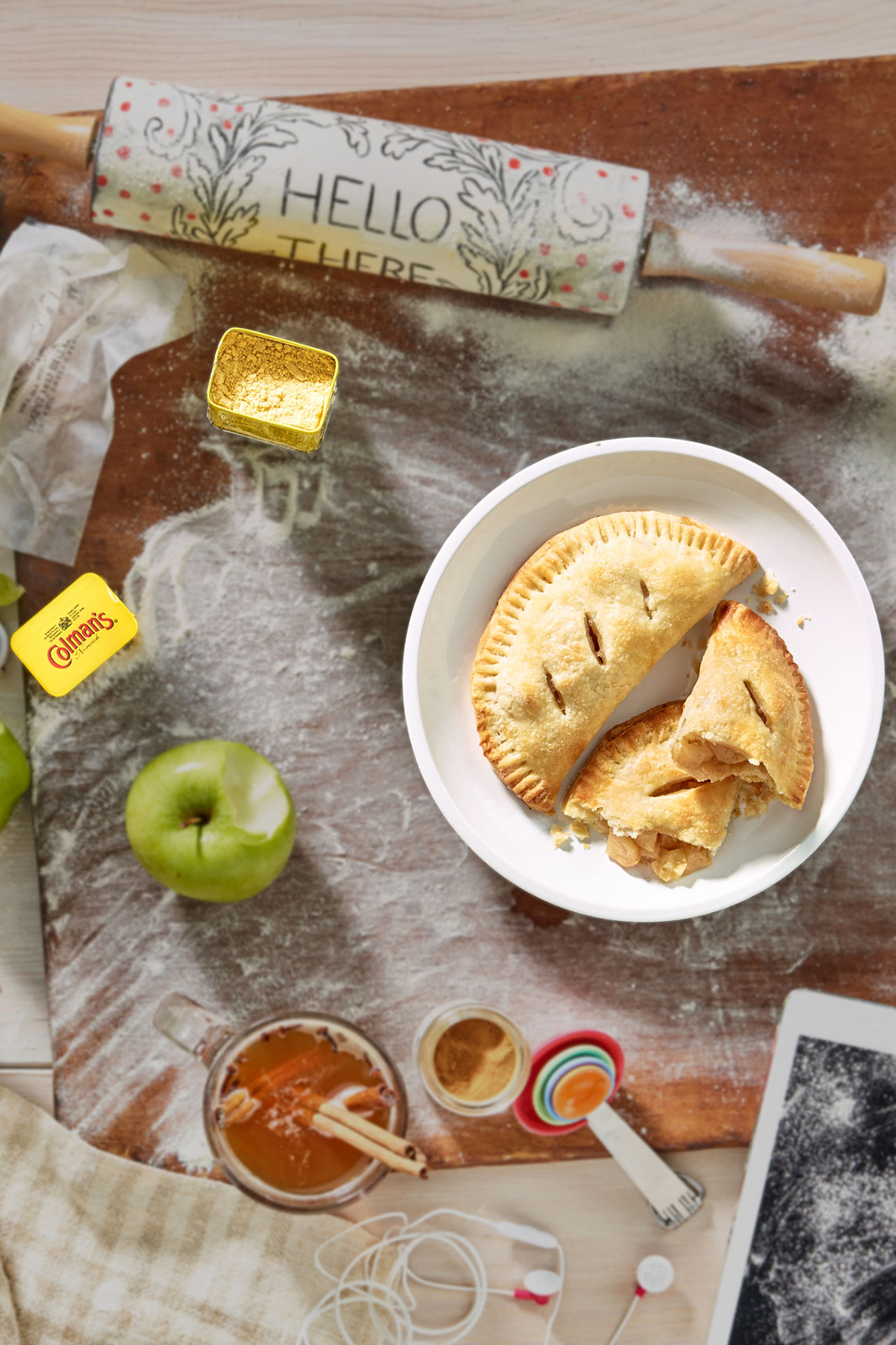 https://www.youtube.com/watch?v=W-rDXSSActo
Ingredients
1 ¼ cups all-purpose flour
¾ tsp. kosher salt
1 stick (1/2 cup) chilled unsalted butter, cut into ½ inch pieces
¼ cup ice water
2 Granny Smith apples, peeled and diced
¼ cup plus 4 tsp. granulated sugar
1 – 2 tbsp. apple brandy
1 ½ tsp. Colman's Dry Mustard Powder
½ tsp. ground cinnamon
Directions
To make the crust, put the flour and 1/2 tsp. of salt in a food processor (if you don't know what this is – Google it) and pulse until blended.
Add the butter and pulse until the mixture resembles coarse crumbs.
Slowly pour the water through the feed tube, pulsing just until a dough forms.
Divide the dough into 4 equal pieces. Shape each piece into a disk, as best you can.
Wrap each disk in plastic wrap and refrigerate until chilled, about 20 minutes.
Preheat the oven to 375°F.
Line a large baking sheet with parchment paper (not wax paper, people!).
Take a sip of brandy, and then; combine the apples, 1/4 cup sugar, brandy, Colman's Dry Mustard Powder, cinnamon, and the remaining 1/4 teaspoon salt in a large bowl.
On a messily floured surface, roll out each disk of dough into a 6-inch round.
Place the rounds, 1-inch apart, on the baking sheet.
Spoon one-fourth of the filling on half of each round, leaving 1/2-inch border.
Fold dough over filling to make half-moon shape. Crimp edges of dough with a fork to seal.
Brush tops of each pie with 1 tbsp. of water; sprinkle each evenly with the remaining 1 tsp. of sugar. Cut three 1/2-inch slits in the top of each pie to allow steam to escape.
Bake until the filling is hot and the crust is golden, about 25 minutes. Serve warm, with ice cream if you're cool.